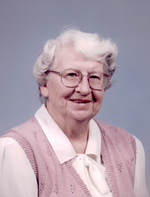 Died: 4 June 2012
Marcia Nannette Batzlaff, 87years, of St. James died on Monday, 4 June 2012 at Pleasant View Good Samaritan Center in St. James.

Marcia is survived by her children; Richard (Elaine) Batzlaff of Plymouth, Virginia (Jeff) Peterson of Indianapolis, IN, Warren Batzlaff of Crystal, Gordon Batzlaff of New Ulm, Rodney (Renee) Batzlaff of Brooklyn Park, Janet (John) Friedrichsen of Rock Rapids, IA, Emily (Brett) Overson of St. James, Brad (Amy) Batzlaff of Fairmont, 22 grandchildren, 9 great-grandchildren, sisters; Artcy Fuhrman of Fond du Lac, WI, Anita Scholz of Wimbledon, ND, Gerald Goehring of Pettibone, ND, and Robert Goehring of Carrington, ND. She was preceded in death by her husband; Gilbert, daughter; Susan, son; Curtis, grandson; Broden and her parents.
Funeral services will be 10:30am, Friday, 15 June 2012 at St. Paul's Ev. Lutheran Church in St. James with Rev. Martin Lopahs officiating.

Visitation will be Thursday at Sturm Funeral Home in St. James from 4pm to 8pm and will continue at the church on Friday one hour before services. Burial will be at 2:00pm, at the Zion Lutheran Cemetery in Sanborn.
Marcia is pictured in the 4th edition of the Friedrich Seidemann Family Tree Book on page 386 with her mother and siblings and on page 288 with her adult children. She is listed on pages 403 and 404 with her husband, their children, and their grandchildren. Marcia is a fifth generation descendant of Friedrich and Rosina Seidemann and her genealogy line is as follows: Friedrich, Carl, Rosa, Clarence, and Marcia.