The First Two Family Reunions
Our first get-together was held in September 1933. It was a rather cold day so we moved from the picnic grounds on the riverbanks to the woods for some shelter. Everyone had a good time talking about old times and discussing the possibility of having another reunion on the following year. There were fifty to seventy-five people in attendance that day. It was my uncle, Fred Seidemann's idea originally to plan for this and so we had invited many of his first and second cousins and their families to come that day including, F. C. Seidemann of Kenosha, the Schuberts, Gerners, and Lufts.

The next reunion was held September 2, 1934 chaired by Fred Seidemann and Charles Gerner as honorary chairmen with Henry Seidemann in charge of general arrangements. There were 191 out of a possible 870 descendants and about 10 guests present. Photographs were taken by Henry and Edward Seidemann.

Prizes were presented to the oldest person present who was Charles Luft of Newburg at age 79 years; to the youngest grandmother, Ida (Gerner) Crass at age 51 years; to the mother of the largest family, Anna (Wilkens) Beimborn with a family of ten children, eight of whom were present; and to the youngest child Marlene Seideman (now Schumacher) who was two months old.
–Ray Seideman
Since the first reunion in 1933, the Seidemann Family Reunion has been held every year at the farm of Ray and Clara (Gerner) Seideman and their children in Newburg, Wisconsin. The highest number in attendance was at the 50th Reunion in 1983 with 625 people.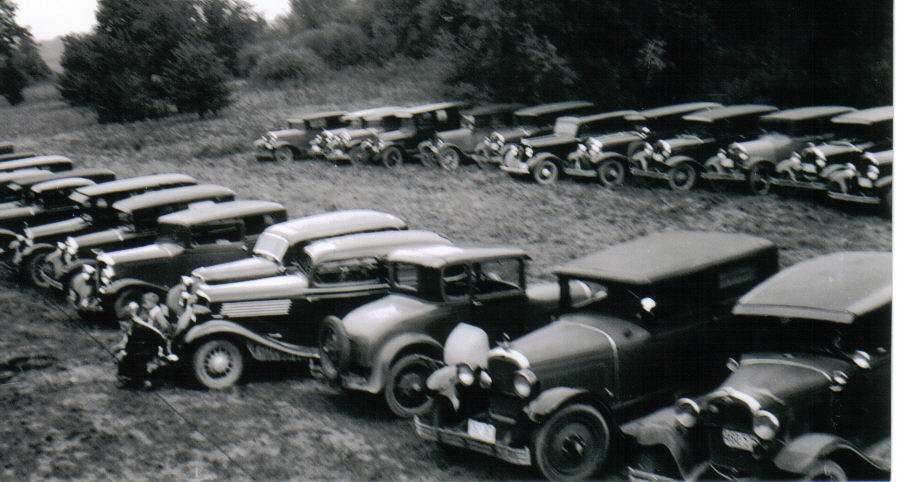 Originally the Reunion were held at the picnic grounds on the farm along the banks of the Milwaukee River. However, this was moved from this area to the area by the house in the 1950's.
In 1982, Ray and Clara built a large building which houses the registration tables. This allowed us to better display antiques, artifacts and family heirlooms by creating different rooms for these family treasures during the reunion. For example, we have a kitchen, parlor, bedroom, schoolroom, a section for carts, buggies and machinery, a tool area and large panels that hold collages of historic family interest. Each item has an accompanying laminated card that explains what the item is, what it was used for, and who owns it.
Every five years we hold a contest for designing a family t-shirt with the winner getting a free shirt. We also have a family picture taken at this time of everyone present.
For the 60th Reunion in 1993, a family quilt was displayed. Members of the family were encouraged to submit a square representing their family, and all entries were sewn into a quilt that is now displayed yearly. In 1999, we did a Seidemann Family Cookbook of favorite family recipes, with some of them going back six generations.
Over the years we have done four family history books. The first one was in 1953, our centennial edition. The second edition was in 1970, to supplement the first book. The third book was in 1983 for our 50th reunion. In 2005, the current edition was released. This new publication has over 500 pages with family lineage, a complete index, numerous photographs, maps, and charts. To order a copy go to order forms.

In 1998, the Wisconsin's Sesquicentennial (150th year) celebrations included a reunion contest. The 65th Seidemann Family Reunion was one of six winners chosen from hundreds of Wisconsin reunions to receive engraved Sesquicentennial medallions. The award was based on the number of attendees, how long the family had been meeting, and the activities they planned.
Once in a while, area and larger newspapers cover our Reunions. Milwaukee television crews have filmed the reunion and interviewed family members. The Seidemann Family Reunion has received national press on television such as the Good Morning America show and is frequently featured in Reunions Magazine.

Excerpted from Chapter 11 of the "History and Family Tree of the Friedrich Seidemann Family", Fourth Edition 2005.