Died: 16 October 2014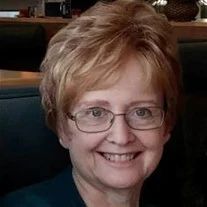 Elizabeth R. Baumann, 63 years, was called to meet her Lord and Savior on 16 October 2014.
Liz was born to William L. Fuhrmann and Artcy (Goehring) Fuhrmann on 2 July 1951 in Ypsilanti, Michigan.

She graduated from Winnebago Lutheran Academy in Fond du Lac, Wisconsin in 1969 and Doctor Martin Luther College in New Ulm, Minnesota in 1973. She spent one year teaching in Kenosha, Wisconsin before moving to Nebraska after her marriage to Paul. She worked at the Baumann family café and First National Bank before returning to teaching. She spent many years teaching at Grace Lutheran School in Geneva, focusing on Art, Music and English.

In addition to Liz's career in teaching, she also worked at Chances R restaurant in York where she made lifelong friends with her coworkers. Every year she looked forward to her time at WELS Camp Jefferson, where she directed the music and wrote camp songs. Later in life she worked at Cornerstone Bank and eventually moved to Geneva, Nebraska.

Liz was married to Paul Baumann of Grafton on 23 June 1974 and to them 5 children were born. She was a member and organist for Trinity Lutheran Church in Grafton, Nebraska. She enjoyed singing with the church choir, helping with vacation bible school, and various church activities. Liz shared her love of music by singing as a soloist and writing her own songs. She was also an excellent artist, and shared her talents by decorating cakes, crocheting, and teaching art classes at Grace Lutheran. What she loved most was spending time with her family and friends.
Liz is survived by her mother, Artcy Fuhrmann; children, son, David Baumann; daughter, Kristin and husband, Patrick O'Donnell; daughter Katy and husband, Raul Bracamontes; son, Steve Baumann and wife, Sara; and son, Michael Baumann; brothers, Myron Fuhrmann, Martin Fuhrmann and wife, Kerianna, Bill Fuhrmann, and John Fuhrmann; sisters-in-law, Jane and husband, Dan Birkholz, Sharon and husband, Jon Ott, Kathy Baumann, Beverly and husband, Steve Haferman, Barb Baumann, and Betty and husband, Eugene Hinze; and grandchildren, Maya Bracamontes and Wyatt Johnson.
She was preceded in death by her husband, Paul Baumann; father, William Fuhrmann; father-in-law and mother-in-law, Herbert and Norma Baumann; sister-in-law, Judy Fuhrmann; and brother-in-law, Terry Geisler.

Funeral services will be held on Monday, 20 October 2014 at 10:00 AM at Trinity Lutheran Church in Grafton, Nebraska. Visitation will be held on Sunday, 19 October 2014 from 1:00 PM to 8:00 PM at Farmer & Son Funeral Home in Geneva. Burial will take place in Grafton Public Cemetery. Memorials are to be directed to Trinity Lutheran Church or Grace Lutheran School.
Elizabeth is pictured in the 4th edition of the Friedrich Seidemann Family Tree Book on page 386 and 387 with her husband and children. She is listed on page 403 with her husband and children. She is a 6th generation descendant of Friedrich and Rosine Seidemann and her genealogy line is as follows: Friedrich, Carl, Rosa, Clarence, Artcy, and Elizabeth.