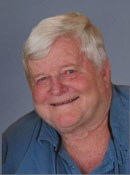 Died: 7 August 2018
Beimborn, Eugene R 76 years, of Laona, passed away peacefully on 7 August 2018 at Theda Care Medical Center in Appleton. Gene was born 26 April 1942. He was the son of the late Reinhard and Esther (Kleman) Beimborn. He married Karen Laubenstein on 30 June 1962.
Gene spent his life dedicated to his family and to his wife. In his early years, he worked on his parents' farm and later worked two jobs to support his wife and children. After working as a lineman at Wisconsin Electric in the late 1970s, he went back to school to pursue a bachelor's degree in engineering while still raising his family with Karen.
An avid outdoorsman, he loved taking his wife and children on family camping trips and teaching them to appreciate nature as well as to hunt and fish. After he retired as Electrical Superintendent at Menasha Utilities, Gene and Karen moved into their dream home on a lake in Northern Wisconsin. He relished his quiet time there, cheering on the Packers and the Brewers and, with his binoculars always handy, watching the loons swim by the house and the lake's lone eagle swoop in to grab a meal.
Married for 56 years, Gene's time with his wife was marked by true love, devotion, and sacrifice. One was never without the other, and they saw each other through all of life's stages from Karen pursuing her medical degree side by side with him as he pursued his, watching their children have children, to their golden years enjoying their lake.
Above all, his wife, children, and grandchildren were the most important things in his life. And never one to back down from a challenge, Gene attended every basketball, football, and volleyball game, track and gymnastics meet, dance recital, and robotics competition that his grandchildren participated in, even if it meant traveling all over the country on caffeine and little sleep.
Gene is survived by his wife: Karen of Laona; three children: Jon (Michelle) Beimborn of Eau Claire, Kristin (Mike) Rheingans of Darboy, and Jamie (Lisa) Beimborn of Brillion; six grandchildren: Taylor and Alexandra Beimborn; Kaitlin (Michael Maigatter) Rheingans, Matthew (Erin Kramer and Izzy) Rheingans, and Nateah (Eric Zuelsdorf) and Alaina Beimborn. He also leaves behind two sisters: Doris (Russ) Neitert and Margie (Adrian) Warnier; and a brother-in-law: James Laubenstein. Gene was preceded in death by his parents, a sister: June (Melvin) Bartel, and his in-laws: Harold and Alice Laubenstein.
Funeral services for Gene were held at 2:00 PM on Saturday 11 August 2018 at First Congregational United Church of Christ, 724 E. South River Street in Appleton, with Rev. Kathryn Kuhn officiating. Family and friends gathered at the church on Saturday morning from 11:00 AM until the time of the service. In lieu of flowers, a memorial fund is established to benefit some of Gene's favorite charities.
The family would like to thank the doctors, nurses, and staff at Theda Care Medical Center in Appleton for their compassion and excellent care during Gene's stay. For more information or to share a memory of Gene, please visit www.wichmannfargo.com. Dad, Grandpa, Papa, we all love you. Enjoy that lake house in the sky.
Gene is a 6th generation descendant of Friedrich and Rosina Seidemann. His genealogy line is as follows: Friedrich, Traugott, Mary, Anna, Reinhard, Eugene. He is pictured on page 41 with his parents and siblings and is listed on page 95 with his parents, wife, and children. He is greatly missed by all.