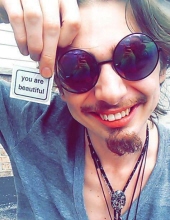 Died: 17 September 2017
Beining, Bradley A. A loving father, son, brother and friend, passed his soul onto its next adventure on 17 September 2017 at the age of 24 years, in his home in Grafton. Bradley's laugh, smile and love will be remembered by his son; Caspian Harold Thomas Morrison Beining, fiancé; Lauren Morrison, mother; Denise Beining, siblings; Damien Beining, Cassandra Gabor and Melanie Beining, grandmother; Leila Behrens, along with other relatives and friends.

A Memorial Service will be held on Friday, 27 September 2017 at 5:00 PM at Mueller Funeral Home (W63 N527 Hanover Ave, Cedarburg, WI. Visitation will take place at the funeral home from 2:00 PM until the time of service.

In lieu of flowers, memorials for Caspian will be placed in a trust fund at Schwab Investments. Please make checks payable to Charles Schwab with a memo note of Caspian's name or payable to Cassandra Gabor.

A special thank you to all who loved Brad and made him the amazing soul that he was.
Brad is listed in the 4th edition of the Friedrich Seidemann Family Tree Book on page 323 with his parents and his siblings. He is an 8th generation descendant of Friedrich and Rosine Seidemann and his genealogy line is as follows: Friedrich, Johanna, Edwin, Angela, Violet, Leila, Denise, and Bradley.