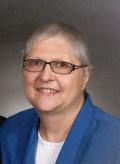 Died: 20 February 2011
Bublitz, Janice (Kellar) 63 years, died 20 February 2011. She is survived by her loving husband Tom, her daughter Melissa and her husband Mark Veenendaal, her son Ryan and his wife Jessica, and her wonderful grandchildren Maci, Brady, Hannah, Riley, and Kylee. Ernest Kellar, her father also survive her as well as her two sisters; Donna (Paul Maechtle) Schubert and Yvonne & her husband Gene Morauski and her two brothers; Myron and his wife Linda Kellar, and Marvin Kellar. 
Her mother, Evelyn (Wilkens) Kellar preceded her in death.
Janice was the business manager of their family business. She was active with the Red Cross, a 4-H leader for 40 years, served as President of the 4-H Leaders Association, Secretary of the District 4-H Leaders' Council, and the State 4-H Leaders' Council. She was a frequent chaperone for county, state, district, and national 4-H programs. She was also a judge for county fair competitions, as well as music and drama festivals.
Janice is listed on page 103 of the 4th edition of the Friedrich Seidemann Family tree book. She is a 6th generation descendant of Friedrich and Rosine Seidemann and her genealogy line is as follows: Friedrich, Traugott, Mary, Edward, Evelyn, Janice. She is deeply missed by her family and friends.