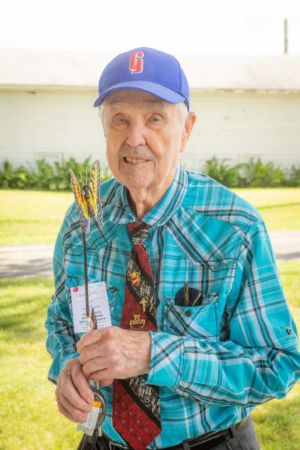 Died: 30 January 2020
Floyd F Cook, 96 years, went home to be with Jesus on 30 January 2020. He was born in St James, Minnesota on 26 June 1923 to Hammer and Bessie (Balser) Cook. He has a twin brother, Lloyd who survivors him. Floyd married Helen Crass on 18 April 1942. They were married 60 years when Helen went home to live with Jesus on 6 August 2008.
Floyd is survived by his daughters and son; Mary (Glen) Schultz of Wapiti, Wyoming, Sharon Stoller of Saukville, Wisconsin, Susie (Mike) Dobbs of Woodruff, Wisconsin and David (Vickie) Cook of West Bend, Wisconsin and a daughter-in-law Debbie Cook of Lansing, Michigan. He is further survived by 17 grandchildren, Cindy Shearman, Glen Schultz, Jr, Brenda Stoller, Wanda Bruce, Tim Stoller, Sandy Mueller, Cheryl Maniscaleo, Shane Cook, Jeffrey Cook, Alison Cook, Shawn Calliari, Melissa Paremski, Tiffany Perket, Racheal Cook, David Cook, II, Dan Cook, Eli Cook, many great grandchildren, brothers, sisters, nieces, nephews, other relatives, and friends. He is preceded in death by his son, Frank Cook, his son-in-law, Peter Stoller, and a granddaughter, Misty Jasper.
He was a very generous man who loved to help people. His motto was "It is better to give than to receive" and that was how he lived his life. He loved God with all his heart, prayed, and read his Bible every morning and every night. He would always greet everyone with "God loves you and so do I."
His favorite hobby was collecting clocks and angels and his room was full of them He would always say he was a little angel.
The Lord is my shepherd; I shall not want. He maketh me to lie down in green pastures: He leadeth me beside the still waters. He restoreth my soul: He leadeth me in the path of righteousness for His name's sake. Yea, though I walk through the valley of the shadow of death, I will fear no evil: for thou art with me; thy rod and thy staff they comfort me. Thou preparest a table before me in the presence of mine enemies: thou anointest my head with oil; my cup runneth over. Surely goodness and mercy shall follow me all the days of my life; and I will dwell in the house of the Lord forever. Psalm 23
Floyd is listed in the fourth edition of the Friedrich Seidemann Family Tree Book on page 291, 292, and 293 with his wife, their children, their grandchildren, and their great grandchildren. He will be greatly missed by all who knew him.