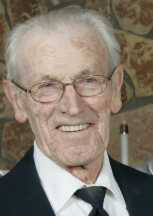 Died: 11 April 2012
Donald Ervin Crass, 92, died Wednesday, April 11, 2012 in Phelps, WI. He was born, the eleventh of nineteen children, on June 13, 1919 in Newburg, WI to Joseph A. Crass and Edna (Gerner) Crass. He grew up in Phelps and Fillmore, WI. He served in the US Army during World War II in Aruba (1941-1943) and Europe (1944-1945). In September of 1944, he was assigned to the 9th Division, 60th Regiment, Company F, 2nd Battalion. For his service, Donald received multiple awards and honors including the French Legion of Honour Medal and The Bronze Star Medal.
After his service, Donald returned to Phelps, WI and was employed by the C.M. Christiansen Company as a poleman and a lumberjack. On August 13th, 1949 he married Fayme Kohta. Together they built a loving family with the addition of their four children. Throughout his life, Donald was a very devoted husband and dedicated father who held the love for his family and country above all else. He was fond of recounting his life experiences and would share his opinions on various topics with anyone who would lend an open ear.
In his retirement, Donald created and ran his own sawmill, was an avid carpenter, inventor, gardener, fisherman, berry picker and maple syrup 'sugarmaker'. He also authored a book, Reminiscing, about his life experiences. He was proud of his heritage and looked forward to the yearly Seidemann family reunion. One of the highlights of Donald's recent years was traveling to Washington D.C. as a part of the "Never Forgotten Honor Flight" for veterans of World War II. Donald was an active member of St. John's Lutheran Church, the American Legion, the VFW, and the DAV. He is survived by his wife of 62 years, Fayme Crass; his brothers: Everette, Bruce, and Phillip Crass; his children: Russell Crass, Donna (Bill) Sefton, Donald R. Crass, and Ina (Ron) Stachewicz; his grandchildren: April (Jonathan) Halpern, Torry Crass, Aaron (Rachel) Sefton, August (Megan) Crass, Donald M. (April) Crass, Justin (Chris) Sefton, Danielle (Jerry) Wiler, and Laura Sefton; and his great grandchildren: Michael and Naomi Halpern, Faith Wiler, Lily Sefton, and Madelyn Crass.
A visitation will be held at Gaffney-Busha Funeral home in Eagle River, WI on Sunday, April 22nd from 4-7pm. The funeral service will be held on April 23rd at 11am at St. John's Lutheran Church in Phelps, WI and will begin with a viewing from 9-11am. A Luncheon at Holiday Lodge will follow the service at 12pm. In lieu of flowers, a memorial fund is being established for the "Never Forgotten Honor Flight", Wisconsin Veteran's Oral History Project, and St. John's Lutheran Church. Donations to the fund can be directed to Donald R. Crass (4315 Deerskin Road, Phelps, WI 54554). Please specify which organization you would like to contribute to. The family would like to extend their appreciation to Dr. Costa and Dr. Zelinski of Aspirus for their compassionate care, to the staff at Inn Care in Phelps for their kindness and friendship, and to the staff at Lillian Kerr for their support during Donald's final days.
Donald was a 5th generation descendant of Friedrich and Rosina Seidemann and his genealogy line is as follows: Friedrich, Johanna, William, Edna, and Donald. He is listed on pages 228, 229, 231, and 294 in the 4th edition of the Seidemann Family Tree Book. He will be greatly missed by his family and friends.