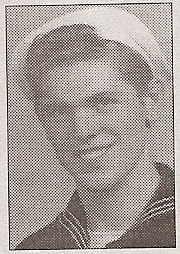 Died March, 2011
Crass, Roy Merlin 83 years, died in March. He is survived by his loving wife, Frances, his children Royce and Joyce (John Witszak); and grandchildren John & Wendy, Troy & Pam, Andrew, Ryan & Stephanie, Melanie, Kelly, Angela & Lee, Gregory & Michelle, Frances & Kyle, and John & Kaylee. He is also survived by seventeen great-grandchildren, four brothers; Donald, Bruce, Everett, and Phillip, nieces, nephews, other relatives and friends.
Roy served his country in the US Navy during WW II, entering at the age of 15 years with his twin brother, Ray. Roy enjoyed educating children about WWII. He also enjoyed remodeling with his daughter and was an avid hunter and gardener. He was also a member of the Underage Veterans and was the Past-President of the Washington County Snowmobile Association.
Roy is listed on page 299 of the 4th edition of the Seidemann Family Tree book. He was a fifth generation descendant of Friedrich and Rosine Seidemann and his genealogy line is as follows: Friedrich, Johanna, William, Edna, and Roy.