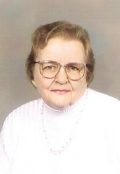 Died: 6 January 2012
Davis, Mae V. 91 years, died 6 January 2012. Mae is survived by her two sons; Dwight (Linda) Davis and Donn (Karen) Davis and two grandchildren; Christopher Davis and Kathryn Davis. 
She was preceded in death by her parents, Louis and Bertha (Seidemann) Winkler; her husband, Eldon; and a son, Dale. Mae was a lifelong member of St. John Lutheran Church and a member of the Altar Guild. Throughout her working career, she was employed as a crossing guard, later becoming an employee of the local hospital in the business office for 15 years, after which she served on the governing board of a medical center. Mae was active as a Cub Scout leader for many years, a 4-H leader, and a campfire leader. She also served as treasurer for the children of St. John Lutheran School.
In her free time, she truly enjoyed needlework, crafts, and ceramics, making many nice items which she shared with family and friends. She will be greatly missed by all who know her.
Mae is listed on page 421 of the 4th edition of the Seidemann Family Tree Book and pictured on page 394. She is a 4th generation descendant of Friedrich and Rosina Seidemann and her genealogy line is as follows: Friedrich, Carl, Bertha, and Virginia Mae.