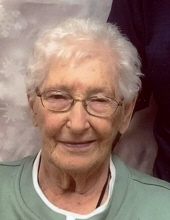 Died: 19 April 2021
Sylvia N Gerner, (nee Himstedt) passed away on 19 April 2021 at the age of 94 in West Bend.
She was born to Herman and Freida Himstedt (nee Janke) on 23 April 1926. Sylvia was baptized and attended parochial church and school through eighth grade and was confirmed. She worked at home plus she did many other jobs that were available to her. At 17, she worked in Port Washington at a shoe and pants factory. At 21, she worked in Cedarburg for Mercury Marine in Quality Control. She went along with Mercury Marine when they moved to Fond Du Lac, Wisconsin, and after 38 years with the company she retired at age 62.
Sylvia was a loving wife to her husband Merlin. She was noted for baking bread and making homemade applesauce. During Christmas time her German stolen bread was excellent. She also enjoyed sewing and doing alterations for the family. Sylvia loved to go fishing on what we know as Sylvia's Lake. She had many fish stories that were told with great excitement on fish that were caught and the few that got away. Sylvia enjoyed traveling and both her and Merlin covered the United States and traveled to Europe to seven different countries. After living on the beautiful lake property, Sylvia and Merlin moved to Cedar Ridge Community in West Bend, where they have enjoyed living for the last five years.
A private service for family will be held on 23 April 2021. Memorials in Sylvia's honor to St. John's Fredonia preschool are appreciated.
To send flowers to the family or plant a tree in memory of Sylvia N. Gerner please visit our Tribute Store.
Sylvia is pictured in the 4th edition of the Friedrich Seidemann Family Tree Book on page 146 with her loving husband Merlin on their wedding day. She is listed on page 333 with her husband and his siblings