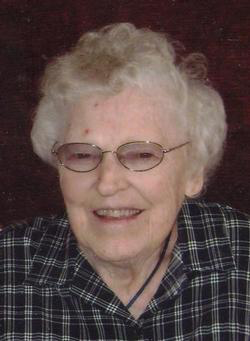 Died: 20 August 2014
Winifred C."Winnie" Gerner, age 88, of West Bend, passed away peacefully on Wednesday, 20 August 2014 at Cedar Lake Health and Rehabilitation.
She was born on 8 January 1926 on the family homestead farm in Cheeseville, Town of Farmington to the late Edwin and Milda (nee Groeschel) Gerner. Winnie graduated from West Bend High School in the class of 1943. She then attended Dodge County Normal School in Mayville, and Oshkosh State Teachers College, earning a B.A. degree in Education.
Winnie's first teaching position was in the one room school house in Cheeseville for two years. She then taught in Boltonville for one year, Kewaskum Elementary for seven years and lastly in West Bend for 25 years, retiring in 1982.
Winnie was the main caregiver for her parents, living on the farm in Cheeseville, and then moving with them to the home on HWY H in 1960. In 1988 she moved to Cedar Community.
She was a member of Peace United Church of Christ in Kewaskum, the Cheeseville 4-H, and the Retired Teachers Association.
Winnie is survived by her two sisters, Caroline Risse of Elkhart Lake (formerly of Slinger), and Beulah Leissring of West Bend; many nieces, nephews, other relatives and friends.
She was preceded in death by her parents; a sister, Harriet (William) Steele; two brothers, Leslie (Enola) Gerner, and Willard (Sylvia) Gerner; two brothers-in-law, Norton Risse, and Karl Leissring; a niece, Vicki Mau; a nephew, Mike Gerner.
Funeral services in remembrance of Winnie will be held on Sunday 24 August at 3:00 pm at the Myrhum – Patten Funeral Home (1315 W. Washington St.) West Bend. Director of Ministries for Cedar Community, Kathryn Kuhn, will officiate. Visitation will be at the funeral home on Sunday from 1:00 pm until the time of service. Burial will be in St. Martins Union Cemetery in Fillmore on Monday 25 August at 11:30 am.
Memorials to Cedar Community Memorial Garden Fund are appreciated by the family.
The family wishes to thank the staff of Timber Cove and Cedar Community Hospice for their wonderful care and love extended to Winnie.
Winnie was a fifth descendant of Friedrich and Rosine Seidemann and is listed on pages xi and 305 in the 4th edition of the Seidemann Family Tree Book. She is also pictured on pages 234 and 235.