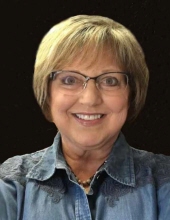 Died: 4 April 2021
Sandra passed away on Sunday, 4 April 2021, at the Pipestone County Hospice House at the age of 60 years, eight months, and 19 days. Sandra "Sandy" Jean Gilliland was born 16 July 1960, to Gerald and Claris (Goehring) Nord in Fort Leavenworth, Kansas.
Sandy lived in Germany for three years and then spent two years in Fort Hood, Texas, before moving to Slayton, Minnesota. She was baptized at Iona Presbyterian Church and later confirmed at the First Presbyterian Church in Slayton. Throughout her childhood years, Sandy enjoyed water activities and being active in band. She graduated from Slayton Public Schools in 1978. She was later united in marriage to Ronald Gilliland on 21 July 1978, at Slayton Presbyterian Church. Together they made their home west of Pipestone, Minnesota. Sandy furthered her education at Pipestone Area Vocational School, earning her degree in secretarial studies in 1980. They were blessed with three daughters: Connie, Nikki, and Amanda.

Sandy held various secretarial positions in Pipestone and also helped her husband farm. Sandy was a member of Peace United Methodist Church in Pipestone and worked in the church office. She was involved in the Quilters Guild Organization. Sandy enjoyed quilting, making greeting/birthday cards, and bird watching. She enjoyed traveling and spent time in Mexico, Hawaii, and visiting family in Florida. Sandy especially enjoyed spending time on the farm watching her grandchildren play together. They took rides on the Gator with the dog and enjoyed feeding the animals.

Sandy will be remembered for her constant smile and love of spending time with her family and grandchildren.

Sandy is survived by her loving husband of 42 years, Ron; children, Connie (Eric) Versteeg of Tamarac, Florida and Nikki (Justin) Nepp of Sioux Falls, South Dakota; grandchildren, Kade and Ryker Versteeg, and Landon, Reagan and Hudson Nepp; mother, Claris Nord of Slayton; and siblings, Malcom Nord of Marietta, Georgia, Jeff (Peggy) Nord of Marlton, New Jersey, and Brenda Sovell of Marshall, Minnesota.
She is preceded in death by her daughter, Amanda Gilliland; father, Gerald Nord; mother-in-law, Joyce Gilliland; and father-in-law, Daryl Gilliland.
Sandra is listed in the 4th edition of the Friedrich Seidemann Family Tree Book on page 408 with her husband Ron, their daughters and grandchildren. She is a 6th generation descendant of Friedrich and Rosine Seidemann and her genealogy line is as follows: Friedrich, Carl, Rosa, Ernst, Claris, and Sandra.