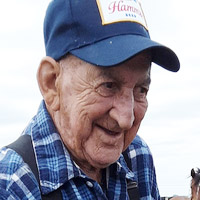 Died: 31 May 2020
Gerald Albert Fredrick Goehring, 91, of Harvey, ND died Sunday 31May 2020 at the St. Aloisius Nursing Home, Harvey. Services following CDC guidelines will be Saturday 6 June at 2 p.m. at the Harvey Assembly of God. Visitation following CDC guidelines will be Friday from 4 p.m. to 7 p.m. at Hertz Funeral Home, Harvey, ND. Burial will be at 11 a.m. Monday 8 June 8 at the Hazelton Cemetery, Hazelton, ND.
Gerald Albert Fredrick Goehring was born to Clarence and Susanna (Illchen) Goehring on 10 April 1929 at Hazelton. Gerald attended school at Hazelton and later moved to a farm near Kensal, ND with his parents and brother, Robert.
Gerald, aka Gerry, grew up on the farm and helped with the farming. He also was much involved in his church and Luther League activities. Gerry went to work for the railroad and then was a lineman for a rural telephone company. He was also employed by a local farmer near Kensal. He later worked for Schultz Lumber Yard and became a Master Plumber.
Gerry married Mavis LaVonne Fornshell on 8 November 1958 at the United Brethren Church in Carrington. They had five children, Terry (deceased), Eileen, Dean, Audrey and Rhonda. They were later divorced.
Gerry moved to Pettibone around 1975 and worked as a Master Plumber and later for Tripp Trucking as a mechanic assistant. He also worked in Dawson, ND for an onion company peeling and bagging onions for salads, for Tri-P harvesting potatoes and for the Hazelief Honey Farms.
Gerry loved animals. He was involved in 4-H at a young age, showing animals and winning many ribbons at the local county fairs. He loved horses and taught his children how to ride at very young ages. Gerry and his children would accessorize their horses and ride in the many parades in Carrington. Later, Gerry was involved in the Pettibone Saddle Club helping with the local rodeos. Gerry also had his hand in raising rabbits in Pettibone and through that developed an interest for his daughter, Audrey and her family. He developed a huge interest in gardening the past number of years. His gardening partner Karen Ziesch and himself would plan and put in huge gardens. Gerry would pass on his gardening tips to many people. He loved to fish and play cards. He also had a love and affection for cats. He had house cats and fed many cats outside his home.
Gerry loved spending time with his grandchildren and great-grandchildren. He also enjoyed putting puzzles together and reading Louis Lamoure books and watching westerns.
Gerald is survived by his children Eileen Zink of Wolf Creek, Oregon, Dean of Fargo, ND, Audrey (Paul) Zeien of Selz, ND and Rhonda Goehring of Fargo; 11 grandchildren; 12 very special great-grandchildren; two sisters, Anita Scholz of Jamestown, ND and Artcy Fuhrman of Fon DuLac, Wisconsin; many nieces and nephews. Gerald was preceded in death by his parents; sister, Marcia; brother, Robert; infant son, Terry; grandson, Onias Zink.
Gerry is pictured in the 4th edition of the Friedrich Seidemann Family Tree book on page 386 with his parents and siblings. He is listed on page 406 and 407 with his parents, his wife Mavis and their children, grandchildren. Gerry is a 5th generation descendant of Friedrich and Rosine Seidemann and his genealogy line is as follows: Friedrich, Carl, Rosa, Clarence, and Gerald.