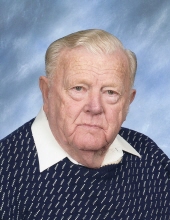 Died: 28 May 2017
Ernest W. Kellar, 90 years, formerly of Waubeka, passed away peacefully on Sunday, 28 May 2017 at Aurora Medical Center in Grafton. Ernest was born in Wilton, ND on 3 May 1927, one of 16 children born to Charles and Louisa Koch Kellar. Pinky grew up in North Dakota, and following his schooling enlisted in the US Navy. He served as a Seaman First Class on the USS LaSalle before being discharged in 1946. On 25 May 1947 Ernest was united in marriage with Evelyn Wilkens in Montana. The couple moved to Wisconsin, settled in the Newburg area and started their family, later moving to Waubeka in the early 1950's. Evelyn preceded him in death in 1991 and Ernest moved to Harbor Club in Port Washington in 2010.
Ernest had been employed as an X-ray Die repairman at AO Smith. He retired in 1979 and began to embrace his passion for fishing. Pinky loved fishing, whether it was in the Milwaukee River near his home in Waubeka, on the Port Washington pier, at his favorite spot near Castle Rock in the Wisconsin Dells, or in Alaska. He also enjoyed gardening, spending hours tending to his vegetables. Pinky loved animals, and liked training dogs. He was a generous man and often gave away the sinkers and lures he made to others. He was a member at Trinity Lutheran Church in Jackson.
Ernest is survived by his children: Donna (fiancé Paul Maechtle) Schubert of Port Washington, Myron (Linda) Kellar of Port Washington, Marvin Kellar of Waubeka, Carolyn (William) Johnson of Sheboygan Falls, Yvonne (Gene) Morauski of Oconomowoc and son-in-law Tom (the late Janice) Bublitz of Waubeka. He is also survived by 9 grandchildren, 17 great-grandchildren, 2 brothers Ted and Dennis Kellar and 2 sisters Zoe McClintock and Elsie Tonga-Ofa, all of North Dakota. Further survivors include nieces, nephews, other family and friends. He is preceded in death by his wife Evelyn, daughter Janice Bublitz, 7 brothers and 4 sisters.
Funeral Services were held at 11AM on Saturday 3 June at the Eernisse Funeral Home, 1600 W. Grand Ave. in Port Washington. Rev. Kenneth Mellon presided. The family received visitors at the Funeral Home on Saturday from 10AM until the service at 11AM. Ernest was laid to rest beside his wife at St. John's Cemetery in Newburg, with military honors.
Memorials, if so desired, are suggested to Trinity Lutheran Church, 1268 Pleasant Valley Road, West Bend, 53095.
Ernest is listed on page 103 in the fourth edition of the Seidemann Family Tree book. Rest in peace, Pinky.