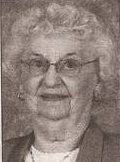 Died: 2 August 2009
Lucille "Lou" Kremsreiter, 89 years, died 2 August 2009. She was the daughter of Frank and Mary (Moss) Wilkens, the sister of Milton Wilkens, and the loving wife of Raymond "Boop" Kremsreiter all of who preceded her in death. Her brother Merlin and his wife Myrtle Wilkens, and her sister-in-law Bernice Wilkens survive her. 
Lou and her husband operated a tavern for many years. Lou was a member of her church, the Christian Women group, and the American Red Cross. She enjoyed socializing, playing cards, especially sheepshead, and she liked gardening.
Lou is listed on page 107 of the 4th edition of the Seidemann Family Tree book. Her family and friends will miss her.