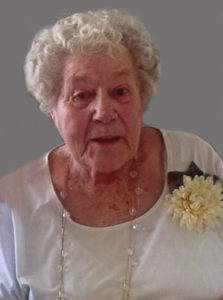 Died: 18 July 2016
Kurtz, Genevieve M. (Kirmse) passed away on Monday, 18 July 2016, at the Kathy Hospice in the town of Polk at the age of 91 years. She was the beloved wife of the late Clarence R. Kurtz and the mother of Roland (Eileen) Kurtz, Carol (Joe) Waters, Kenneth (Gail) Kurtz, Julie Ann (David) Taylor and a very special niece, Dawn (Jim) Goad. She was born on 12 April 1925, to Elmer and Julia Kirmse. She was united in marriage to Clarence R. Kurtz at St. John's Evangelical Lutheran Church in Newburg on 15 April 1944.
Genevieve, known to everyone as Jenny, was very involved in the 4-H program. She was the leader in the Foods and Nutrition Program. Jenny and Clarence also owned and operated "The Country Collectibles Antique Shop" next to their home. She was a past member of the St. John's Ladies Auxiliary. She had a servant's heart and never asked for anything and always there to help. Jenny loved to yodel and sing at the polka parties and left wonderful memories for everyone who heard her.
Survivors also include her grandchildren, Cheryl (Cory) Castaneda, Kari (Bert) Diver, Josh Kurtz, Jennifer (Mike) Moldenhauer, Joe (Jill) Waters, Chris (Jenn) Waters and Matthew (Patti) Kurtz. She also has 11 great-grandchildren and one great-great grandchild. Brothers, Eugene (Marilyn) Kirmse, Robert (Loretta) Kirmse, Jack (Carol) Kirmse, Mary Lou (Clyde) Gerner and Susie Kirmse; survived by many nieces and nephews and many good friends. She left us all with wonderful memories to cherish.
Genevieve was preceded in death by her husband, Clarence; her parents, Elmer and Julia Kirmse; her brothers and sisters, Ethel Herriges, Winnable Race, Blanche Battermann, Myrtle Wilkens, Ray Kirmse, and Orville Kirmse and a grandson-in-law, Joe Davidson.
A funeral service for Genevieve was held at 3:00 p.m. on Friday, 22 July 2016, at St. John's Evangelical Lutheran Church in Newburg. Rev. Kurt Schaser officiated and burial followed in the church cemetery. Genevieve's family greeted relatives and friends at the church on Friday from 1:00 p.m. until the time of service. Memorials to St. John's Evangelical Lutheran Church in Newburg or to the charity of your choice in memory of Genevieve is appreciated.
The family would like to extend a special thank you to the Kathy Hospice staff, also the staff at the MCU unit at St. Joseph's Hospital and Annie Schneider for keeping her mind busy by enjoying the polka parties so she could yodel and continue her passion of yodeling and singing for the residents with Annie on Monday night polka parties.
Jenny and Clarence are pictured on page 65 of the 4th edition to the Friedrich and Rosine Seidemann Family Tree book and listed on page 123 of that book with her loving family. She will be greatly missed by her family and all those of us who were fortunate effort to have known her.