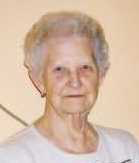 Died: 27 November 2012
Laubenstein, Ruth L 90 years, passed away 27 November 2012. She was married to Gerhard Laubenstein and they had three children that survive her: Pat and her husband Ken Kasten, Gary Laubenstein and his wife Kris, and Jan Ward and her husband KC. She is further survived by grandchildren: Chuck (Eileen) Kasten, Dan Kasten, Paul (Molly) Kasten, Nate (Arica) Laubenstein, and Anneliese Ward of; great-grandchildren: Melissa and Mary Ellen Kasten, her great-great-grandson Maximus Herber. She is further survived by nieces, nephews, other relatives and friends. She is preceded in death by her husband Gerhard and 2 grandchildren, Debbie and Sherrie Kasten.
Throughout her life, Ruth worked at Power Products in Grafton, Peterson Industries in Fredonia, and also the Cook at Ozaukee High School for many years. She was a member of St. John's Lutheran Church in Fredonia where she taught Sunday School and belonged to the Ladies Aid. Ruth helped start the Fredonia Boy Scout Troop, and enjoyed cooking and embroidery. She also loved playing sheepshead and watching the Brewers games.
Ruth is listed on page 105 of the 4th edition of the History and Family Tree Book of the Friedrich Seidemann Family. She will be greatly missed by family and friends.