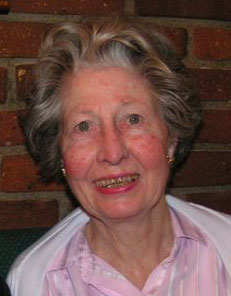 Died: 28 November 2010
Lund, Ruth L. (Bacon) Hale passed away 28 November 2010, just 3 days shy of her 96th birthday. She was born to Otilla (Seidemann) and Gilbert Bacon. She leaves her daughters; Sharon (Hale) & Ed TenNapel, Kara Linda (Hale) & William Heiser, and Laurie (Hale) Jacobs; seven grandchildren, James & Debra TenNapel, Douglas & Angela TenNapel, Tom & Carrie Richard, Michael Richard, Peter Richard, Julie (Jacobs) & Brian Lowe and Jennifer (Jacobs) & Tim Hull. There are 15 great-grandchildren surviving. She is further survived by her two nephews Cliff (Susan) Hall and Richard Hall. 
Ruth loved her family and the times they could be together. Her favorite things were traveling, dancing and gardening.
Ruth was a 4th generation descendant of Friedrich & Rosina Seidemann and is listed on page 422 of the 4th edition of the Seidemann Family Tree Book. Her genealogy line lists as follows; Friedrich, Carl, Otilla, Ruth. She will be greatly missed by her loving family and friends.