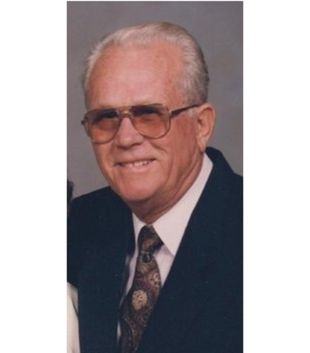 Died: 19 June 2018
MOORE, Elwin Alvin, 93 years, passed away peacefully in his sleep on 19 June 2018. He was born in Four Oaks, North Carolina. Elwin was the second of 15 children and the oldest boy where he was raised on a farm..
Elwin joined the Army during WWII and was a wire runner for the Army until he was wounded. He met his wife at McGuire Hospital during his rehab. He then moved to Richmond, where he became a master carpenter and eventually worked at Thalhimers for 30 years. He was a devoted family man and always ready to help others.
He is survived by his beloved wife of 71 years, Mary Joyce Wermuth Moore; two children, Lawrence Donald Moore and Sandra Moore Welch of Sandston, Virginia and grandchildren, Tray Welch (Gina), Deanna Moore, Damon Moore (Dawn) and Samantha Kerr (Ian); eight great-grandchildren, three great-great-grandchildren and six siblings.
He was predeceased by his parents, Lawrence Hoyt Moore and Clyde Cindy Lee Moore; and eight siblings.
We want to thank Anna Pitts and her wonderful staff at Covenant Columns Manor for the love and care they gave him and also Heartland Hospice for keeping him comfortable during his last weeks.
Visitation was held on Wednesday, 27 June, from 2 to 4 and 6 to 8 p.m., and Thursday, 28 June from 11 a.m. to 12 p.m., at Nelsen Funeral Home, 4650 Laburnum Avenue, Richmond, Va. The service, also at Nelsen, was held at noon on 28 June, followed by the interment in Washington Memorial Cemetery. A reception at Corinth United Methodist Church in Sandston, Virginia, followed the interment. Donations may be made to the Chapman Scholarship, Corinth UMC or to the Wounded Warrior Project or a charity of your choice.
Elwin is pictured in the 4th edition of the Friedrich Seidemann Family Tree Book on page 187 with his wife Mary Joyce. He is listed on page 206 and 207 with his wife, children, and grandchildren. He is deeply missed by his family. Rest in peace Elwin.