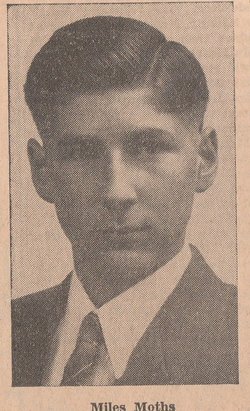 Died: 6 February 1944
Miles William Moths, 18 years, son of Oliver and Clara Yahr Moths, was born 28 February 1925, at Silver Creek, in the Town of Sherman, Sheboygan County, Wisconsin.
Miles attended the Harrison school in the Town of Rhine and later attended the Kiel schools, graduating from the Kiel High school in 1942.
He took an aircraft engine course in Racine and was employed at the Freis Feed and Elevator Co., at Kiel.
Survivors are the parents; a sister, Mae, and the grandparents, Mr. and Mrs. Julius Yahr, Sr., of Waubeka.
Funeral services were held Thursday at 1:30 p.m. at the Meiselwitz Funeral home at Kiel, and at 2 p.m. at the St. Peter Evangelical and Reformed church, the Rev. E. L. Worthman officiating. Burial Was at the Kiel City Cemetery. Friends may call at the funeral home beginning at 4 p.m. Wednesday.
Miles is listed in the 4th edition of the Friedrich Seidemann Family Tree Book on page 372 with his parents. He is a 5th generation descendant of Friedrich and Rosine Seidemann and his genealogy line is as follows: Friedrich, Rosina, Clara Schubert, Clara Yahr, and Miles.