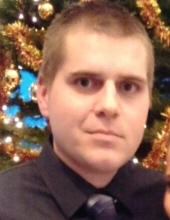 Died: 6 December 2015
Neumann, Bradley J. 28 years of Saukville passed away at Aurora Medical Center in Grafton on Sunday, 6 December 2015. He was born 16 January 1987 in West Bend to Tim and Christine (Voigt) Neumann. He enjoyed playing ice hockey in his youth and was an avid sports fan. On 23 December 2013, he married Nicole Westling in Port Washington. Brad worked as a die caster at Pace Industries in Grafton. 
Survivors include his wife Nicole, his three daughters Skylene, Baylee, and McKenlee, his parents Tim (Pam) Neumann of West Bend and Chris (Mark Flowers) Blomberg of Macon, MO, his maternal grandmother Ramona Voigt of Grafton, two brothers Ryan Neumann of Trenton, IL. and Army Specialist Austin Neumann 2/593rd 173 Infantry Airborne, three sisters Lauren of Trenton, IL and Madison and Sophia of West Bend, his mother in-law Bonnie (David) Regan of Maple Grove, MN, father-in-law Dennis Westling of Hinkley, MN, Aunts and Uncles Judith (John) Kertscher, Jean Kraft, Thomas (Patricia) Neumann, Janice (Richard) Bartelt, Brian Voigt, Jeff Voigt, Kimberly Westling and Daniel Westling. He was preceded in death by his grandparents Charles Neumann, Dorothy Kissinger, and Alfred Voigt. Visitation was at the Eernisse Funeral Home 1600 W. Grand Ave. in Port Washington. In lieu of flowers, memorial donations for the education of Bradley's children appreciated.
Bradley was a seventh generation descendant of Friedrich and Rosine Seidemann and his genealogy line is as follows: Friedrich, Johanna, Edwin, Angela, Charles, Timothy, and Bradley. Brad is listed on pages 325 and 326 in the 4th edition of the Seidemann Family Tree. He is greatly missed by all who know him.