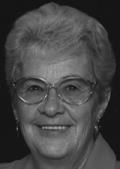 Died: 13 March 2018
Jean C. Passehl, 84 years, of Racine, passed away Saturday, 13 March 2018 when Jean was reunited with her husband of over 64 years.
She was born 25 November 1933 in Racine, Wisconsin, the daughter of Erville and Sylvia (Seidemann) Buchman. Jean married Robert Passehl on 7 February 1953 in Racine.
Jean was the quiet strength of the family. She was an avid Brewer fan, enjoyed reading, bowling, crocheting, gardening, solitaire, and expressing her love of music through the Hula Cats. In addition to the time she spent during retirement in Florida, she enjoyed spending time at their permanent campsite with friends and family. Jean had a special place in her heart for the lifetime of friendship she shared with the woman from "Club".
She will be deeply missed by her six children, Linda (Marc) Henkel, Judy (John) Vermey, Vicki (David) Barke, Terri (Reid) Pfarr, Alan (Brenda) Passehl and David (Kerry) Passehl, along with seventeen grandchildren, sixteen great-grandchildren, and one great-great grandchild. The family would like to thank Hospice Alliance for their care and compassion
Jean was preceded in death by her husband Robert, her parents, sister Audrey Erickson and a great-grandchild Zachary Kumm.
Relatives and friends are invited to share in the Celebration of Jean's life on Thursday, 12 April 2018 from 4:00 PM to 6:30 PM at Lutheran Church of the Resurrection, 322 Ohio Street, Racine, Wisconsin. A service will immediately follow the visitation. The family would like to thank Hospice Alliance for their care and compassion. In lieu of flowers, the family suggests that a donation be made in Jean's name to Hospice Alliance or Lutheran Church of the Resurrection.
Jean is listed in the 4th edition of the Friedrich Seidemann Family Tree Book on page 410 and 411 with her husband, children, grandchildren, and great-grandchildren. She is a 5th generation descendant of Friedrich and Rosine Seidemann and her genealogy line is as follows: Friedrich, Carl, Frederick, Sylvia and Jean.