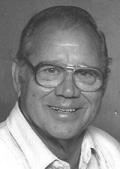 Died: 28 December  2017
Robert E. Passehl, 89 years, of Racine, Wisconsin, passed away Thursday 28 December 2017 at Parkside Manor with family at his side. He was born 29 March 1928 in Racine, the son of Louis and Mabel (Nee: Heistad) Passehl.
He married Jean ( Buchman) Passehl on 7 February 1953 in Racine. A proud Marine Veteran, Robert owned Passehl's Standard Service Station for 40 years in Racine. Bob loved to bowl and for many years was involved in numerous leagues. He was affectionately known as "5 Pin". He also loved to golf, play pool, horseshoes and sing in his baritone voice. In addition to the time he spent during his retirement in Florida, he enjoyed spending time at their permanent campsite with friends and family. Bob is most known for his love for people and taking care of them, especially his wife and 6 children.
Bob will be deeply missed by his wife Jean of 64 years and 6 children, Linda (Marc) Henkel, Judy (John) Vermey, Vicki (David) Barke, Terri (Reid) Pfarr, Alan (Brenda) Passehl and David (Kerry) Passehl, along with 17 grandchildren, 16 great-grandchildren, 1 great-great grandchild and sister Shirley (Patrick) Madden.
He was preceded in death by his parents, 3 brothers, Clarence, Gene, James, sister Beverly and a great-grandchild Zachary Kumm.
Relatives and friend are invited to share in the Celebration of Bob's life on Thursday, 25 January 2018 from 4:00 PM – 6:00 PM at Strouf Funeral Home, 1001 High St. Racine, WI. A brief service will immediately follow the visitation. Interment with full military honors will be held privately at Southern Wisconsin Veterans Memorial Cemetery. The family would like to thank Season's Hospice for their care and compassion. In lieu of flowers, the family suggests that a donation be made in Robert's name to Veterans Outreach of Wisconsin or Season's Hospice.
Bob is listed in the Friedrich Seidemann Family Tree Book on pages 410 and 411 with his wife, children, grandchildren, and great-grandchildren.