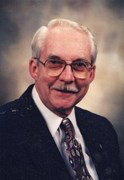 Died: 1 June 2016
Scheunemann, Norman E. age 85, a loving husband and father, lost his valiant fight to cancer on Wednesday, 1 June 2016 at Maritime Gardens, Manitowoc. He was born on 25 October 1930 and the only child of Anton and Theresa (Wendt) Scheunemann of West Bend. He lived in and around the West Bend area most of his life…first working on the family farm and later for several small companies in the West Bend area. On 6 October 1951 he married the former Delores Race of the Saukville area. He was a kind gentle soul who loved his family and doing things with and for them. He also loved to garden and work in his yard but, his biggest passion was meeting new people thru his real estate career. Upon his retirement from the Gehl Company he continued on in real estate. Norm and Delores took many trips to Phoenix, Arizona to visit the oldest daughter Joan. Six years ago he and Delores moved to Manitowoc, WI to be closer to their youngest daughter June and her husband, Mike Bernsdorf. He loved going to June's farm and helping with anything and everything.
Survivors include his wife of 64 years: Delores Scheunemann, Manitowoc; and two daughters: Joan Scheunemann, Phoenix, AZ and June Scheunemann and her husband, Mike Bernsdorf, Reedsville. Also surviving are many family and friends. He was preceded in death by his parents: Anton and Theresa Scheunemann. Cremation has occurred at All-Care Cremation Center, Manitowoc, and per Norman's request, there will be no services and his cremated remains will be laid to rest at Washington County Memorial Park, West Bend, WI.
The Pfeffer Funeral Home & All-Care Cremation Center, Manitowoc, is assisting the family with funeral arrangements. The family would like to extend a heartfelt thank you to Maritime Gardens Assisted Living where Norman resided the last two years. The other residents and staff were all part of his family in his heart. Their compassion these last weeks for the care and comfort of "Normie" will not go unforgotten. Norman is pictured on page 223 and listed on page 268 in the 4th edition of the Seidemann Family Tree book.