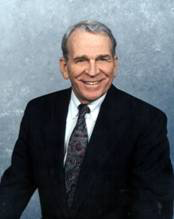 Died April 28, 2018
Seideman, Colonel Charles (Chuck) Henry, US Army (Ret.), resident of Austin, Texas for more than 40 years, died 28 April 2018. He was born on 18 June 1927 to Raymund and Clara (Gerner) Seideman. Chuck entered the US Army at 18 in 1945. He received his commission as an Artillery Officer in 1949 from Officer Candidate School serving two tours of duty in Germany and three in Asia. In addition to commanding units, he served as a nuclear weapons officer, personal staff officer and a contracting officer for the US Army. The National Contract Management Association certified Colonel Seideman as a Professional Contract Manager in 1973. Chuck graduated from University of Nebraska at Omaha and earned a MBA from George Washington University in Washington, DC.
Retiring from active service in Washington, DC at age 49, he moved to Austin. Beginning his second career, Chuck formed a financial consulting firm and later was a founder and president of Capital City Leasing, Inc. He was an elder and trustee of Hope Presbyterian Church and an active member of the North Austin Rotary Club serving on the board and later as treasurer.
Colonel Seideman's first marriage of 56 years was to Hertha (Kitty) who predeceased him. His eldest daughter Karen Dee, a grandson Charles Raymund Seideman also predeceased him.
Surviving him are his wife Virginia of 16 years and five children – Dr. Sandra Thomas, of Marble Falls and husband Dr. Griffith Mose Thomas, children Griffith Mose Thomas II (Hunter); Lana Luise Hill and husband Nicolas Hill of Brisbane, Australia, and Sarah Mason; Dr. Steven C. Seideman of Farmington, Arkansas and wife Cynthia; David L. Seideman of Austin, wife Louise and children Shae Burnett and husband Michael Reilly; Kate Johanna Seideman of Oregon; Dean Scott Seideman of Dallas wife Anna, and children Christopher and wife Holly, Taylor and Samantha; D. Mark Seideman of Blanco and children, Michael and wife Allison and great-granddaughter Ruby Mae and Matthew. Chuck considered Virginia's children as his children; Marvin Gordey wife Lisa and grandchildren Morgan Curren and Joey, and Madison Gordey; Marianne Sloan husband Richard Geoffrey Sloan and grandchild Geoffrey Sloan.
A memorial service was conducted Thursday 17 May 2018 at 1:00 at Cook-Walden Chapel of the Hills Funeral Home, 9700 Anderson Mill Road Austin, Texas. A second memorial service with military honors is planned in Wisconsin at 3:00 PM on Saturday 14 July 2018 at the Union Cemetery in Newburg, Wisconsin.
In lieu of flowers, donations may be made to the Christi Center 2306 Hancock Dr., Austin, TX 78756; Natio Ministry 509 Riverview Sr., Georgetown, TX 78628 or the Newburg Union Cemetery, Newburg, WI. 53060.
Fond memories and expressions of sympathy may be shared at www.cookwaldenshapelofthehills for the Seideman family.
Charles was very interested in his family's genealogy and is pictured in the fourth edition of the Seidemann Family Tree book on page viii as a Seidemann Family Genealogist, honored on page ix as one of our family genealogists, listed on page 2, pictured on page 66 with his wife's and on page 251 with his family. He is also listed on pages 125 with his family on his father's side and on page 336 with his family on his mother's side. Charles was a fifth generation descendant of Friedrich and Rosina Seidemann. His genealogy line on his fathers' side is as follows: Friedrich, Traugott, Henry, Raymund, and Charles and on his mother's side as Friedrich, Johanna, Charles, Clara, Charles.
Charles grew up helping his parents prepare for the Seidemann Reunion on a yearly basis until he left for the military but stayed in touch as a family genealogist and after his service time he returned to the Seidemann Reunion each year traveling from Texas. He will be greatly missed by his family and friends.