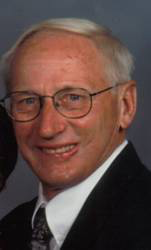 Died: 20 May 2008
Dennis R. Seideman, 65 years, passed into eternal life on 20 May 2008. He was the son of the late Ray and Clara (Gerner) Seideman, the loving husband of Maggie (Dowe), the Super Dad of Brian (Lisa) , Bob (Tammy), and Debi (Chris), and the proud grandpa of six grandchildren. He is further survived by two sisters Marion (Kenneth) Race and Phyllis (Bruce) Naumann, and five brothers Charles (Virginia), Walter (Ruth), Roger, Gerald (Joyce), and Wayne (Rosemary). 
Dennis enjoyed spending time with his grandchildren, paddle boating, traveling, and fixing things. He was in charge of the bratwurst stand at the annual Seidemann Reunion.
Dennis was a Patron of the 4th Edition of the Friedrich Seidemann Family Tree book and is listed on pages x, 69, 129, 251, 254, and 340 of the 4th edition of the Friedrich Seidemann family tree book. He is deeply missed by his family and friends.