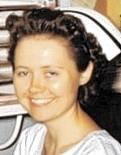 Died: 16 May 2017
Seideman, Ruth E, 82 yrs, peacefully passed away on 16 May 2017 in Oklahoma City, OK. Ruth had a magical smile, and a gift for caring and sharing with those around her, as demonstrated in her 41 years of nursing and education. She truly made the world a brighter place for her family, friends and students. Ruth was born on 7 July 1934, in Okeene, OK, daughter of Ewald Julius and Alma Alexandra (Smith) Kramer and older sister to LaDonna Meinders. She graduated from Loyal High School, Oklahoma City University, and Texas Woman's University. After 10 years of teaching nursing, she went on to earn her Master of Arts and Master of Science from The University of Oklahoma while continuing to teach nursing. At the age of 53, she earned her Doctor of Philosophy at The University of Oklahoma. On 27 November 1954, Ruth married Jack Young, who had attended school with Ruth since 1st grade in Loyal, OK. Summer vacations were typically spent in the Creede, CO area. One of her favorite family traditions was at their Colorado cabin where they would hike, fish, camp, ride horses and explore jeep trails where trails didn't exist. She loved sharing those experiences with her grandchildren as well. On 21 May 1988, Ruth married Walter Seideman. They loved ballroom dancing; all things family, traveling the world and visiting their combined six children and five grandchildren. Ruth's caring demeanor and passion for helping her nursing students learn were two of her finest qualities. She learned early in life the importance of helping others and giving back to the community. For example, she spent the summer of 1960 in New York City serving as a Nursing Supervisor for Adolescent Drug Abuse unit at Riverside Hospital. In addition, to being a loving wife, mother and grandmother, Ruth was actively involved in the promotion of many nursing education organizations. Her generosity, kindness and love to all were never ending. Ruth leaves behind a family she loved and cherished dearly and who will remember her always with joy in their hearts. Ruth was preceded in death by her husband, Walter Seideman. 
She is survived by her sister, LaDonna Meinders and husband Herman; her children, Stanley Young and wife Hilary, Steven Young and wife Paula, and Roger Young and wife Kimberly; her former husband, Jack Young; her stepchildren, Russ Seideman and wife Miffie, Keith Seidemann, and Bonnie Seideman; and her grandchildren, Luke, Tate, Travis, Harper, and Tina, who adoringly called her "Grandma." We give a special thank-you to Jeanne Pearl wonderful caregivers, who were so loving and supportive. A Memorial Service to celebrate her life will be held on Saturday, June 17, 2017, at 11 a.m. at the Church of the Servant, 14343 N. MacArthur Blvd., OKC, 73142. Contributions in Honor or Memory of Ruth to provide nursing scholarships for students may be made online. This contribution can be done by clicking on this link on the donation page of the Kramer School of Nursing at OCU nursing website and then clicking on "Designation" selecting the drop down box "Nursing Scholarships" and typing "Ruth Kramer Seideman" in the Comments box. https//secure.okcu.edu/onlinegiving/givetoksn/
Ruth is pictured on page 68 of the Seidemann Family Tree book and listed on pages128 & 338 on our family tree. Ruth was a wonderful lady who will be deeply missed by all who know and loved her.