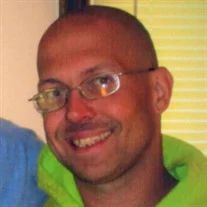 Died: 29 March 2021
Eric Sovell, age 37 years, 7 months, and 21 days, died unexpectedly on Monday, 29 March 2021, at his home.
Eric Theodore Sovell was born on 8 August 1983, to Douglas and Brenda (Nord) Sovell in Marshall, Minnesota. Eric was raised in the Marshall area. He was baptized at Christ United Presbyterian and was a 2001 graduate of Marshall High School. While attending high school, he met Tabatha Paradis, who would later become his fiancée.

Eric moved to the Fargo-Moorhead area in the early 2010s and spent a number of years working as a Foreman for a cement construction company. He took great pride in his work. In 2019, Eric bought a house and moved to Ivanhoe, where he resided at until his death.

Eric was a loving person. He had a huge heart and so much love for his family, friends, and Sophie, his mom's dog. Although Eric was very loving, he could also be just as stubborn. Eric really enjoyed cooking, his specialty dish was tamales. In his free time, Eric enjoyed fishing, camping, working on cars, and gardening.

Eric is survived by his mother, Brenda Sovell, of Milroy; fiancée, Tabatha Paradis of Marshall; two brothers, Philip Sovell of Marshall, Brett Sovell of Marshall; un-biological brother, Brandon Hasner of Sioux Falls, South Dakota; maternal grandmother, Claris Nord of Slayton; special four-legged companion, Sophie; aunts, uncles, relatives, and many friends.

He is preceded in death by his father, Douglas Sovell; paternal grandparents; and maternal grandfather.
Private Memorial Services will be held at a later date.
Eric is listed in the 4th edition of the Friedrich Seidemann Family Tree Book on page 408 with his parents and siblings. He is a 7th generation descendant of Friedrich and Rosine Seidemann and his genealogy line is as follows: Friedrich, Carl, Rosa, Ernst, Claris, Brenda, and Eric.