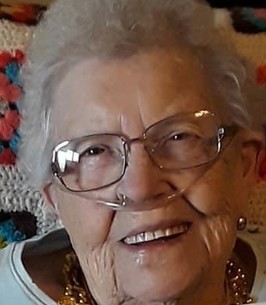 Died: 24 October 2020
Edna Mae Steinert (nee Lechner) age 94 passed away peacefully on Saturday 24 October 2020 at Kettle Moraine Gardens in Kewaskum. She was born on 6 May1926 in Grand Rapids, Michigan to Edward and Gladys Lechner (Crass) and raised in Phelps, Wisconsin. She attended Phelps Union Free high school. She married Clarence Herman "Stoney" Steinert on 21 June 1947. She was employed at the West Bend Company and also worked 19 years at Amity Leather. After retiring she was a homemaker. She enjoyed playing bingo, watching TV game shows, and playing games with her friends after lunch at Kettle Moraine Gardens. She was a union member of AFL-CIO Local 915 and Trinity Lutheran Church in West Bend.

She will be deeply missed by her children Carl (Nancy) Steinert, Connie (Wayne) Wetzel, Susan (Craig) Mansmith, Calvin (Judy) Steinert, Stanley (Tracey) Steinert, Janet (Butch) Hafemann; 15 grandchildren, 30 great-grandchildren, 7 great- great-grandchildren, her sister-in-law Margaret Lechner, brother-in-law Edward (Margaret) Steinert. She is further survived by many nieces, nephews, cousins, other very special relatives and many dear friends.

Edna was preceded in death by her parents; her husband, Clarence (Stoney), daughter, Carol (Tom) Herman, great- grandson, Noah Wilson; her brother, Neal Lechner; brothers- and sisters-in-law, Elmer Steinert, Wilbert (Dorothy) Steinert, Evelyn (Adam) Shecher and Norma (Walter) Meyer.

A private Funeral Service in honor of Edna will be held on Friday 30 October at 6 PM at the Phillip Funeral Home Chapel (1420 W Paradise Dr. West Bend) with Pastor David Schoob presiding. Visitation with family and friends will also be held on Friday 30 October from 4PM until 5:45pm. Cremation will take place at Paradise Cremation Services of West Bend followed by an interment of ashes at Fillmore Union cemetery on Saturday 31October at 11 AM.

A special thank you to everyone at Kettle Moraine Gardens and Preceptor Home Health Hospice.

The Steinert Family would like to extend their appreciation in advance for memorials that are offered in lieu of flowers to either the Alzheimer's Research Center or to the American Cancer Society.
Edna is listed on page X in the 4th edition of the Friedrich Seidemann Family Tree Book with her husband as Patrons for the 4th edition book and also on page 278 with her parents, her husband, their children, their grandchildren, and their great grandchildren. Edna is a 6th generation descendant of Friedrich and Rosine Seidemann and her genealogy line is as follows: Friedrich, Johanna, William, Edna, Gladys, and Edna.