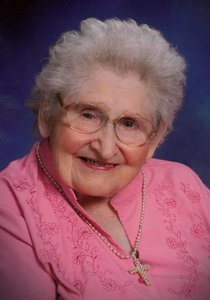 Died: 9 February 2016
Wilkens, Adeline L. (nee Lehn), age 88, found eternal rest 9 February 2016 in the comfort of her home in Newburg. She was born on 21 January 1928 to the late Andrew and Lydia Lehn (Nee Fiedler) in the town of Barton. She was baptized and confirmed at St. Paul's Lutheran Church, Slinger, and graduated from Slinger High School in 1945. She then moved to the town of Barton and worked at JC Penney and the West Bend Company. 
She married Arthur Wilkens (Otto and Augusta) at St Paul's Lutheran Church in Slinger on 4 August 1951. They settled in Newburg, overlooking the Milwaukee River where she lived the rest of her life and raised 7 children. Arthur preceded her in death 31 July 2009. She was a member of St. John's Ev. Lutheran Church, Newburg, St. John's Ladies Aux., VFW post#1393, and worked at the village election polls for several years. They kept a large garden for the family and sold many, many boxes of raspberries and strawberries to grateful customers over the years. She loved to bake and cook for the frequent get-togethers of family and friends, and always enjoyed time spent with her children and grandchildren. 
Survivors include: 7 children Dianne Schreiber (Bill Jr.) of West Bend, Eileen SearVogel (Bob) of West Bend, Sharon Wilking (Rick) of Golden, CO, Paul (Karen Schowalter) of Newburg, Allen (Denise Burton) of Oakfield, Ron (Linda Fechter) of Mequon, Arleen (Rev. Jeff Bolwerk) of St. Joseph, MI; 13 grandchildren; 7 great-grandchildren. Adeline is further survived by a sister-in-law Leona Scheunemann of West Bend, nieces, nephews, cousins and friends.
In addition to her husband, parents and in-laws, she is preceded in death by one sister LaVerne Smith, brothers-in-law Elmer Wilkens, Hilbert Scheunemann, Waldemar Luft and John Smith and sisters-in-law Esther Wilkens, Arline Luft and one grandchild Scott SearVogel.
A Funeral Service will be Saturday, 13 February 2016 at 11:00AM at St. John's Ev. Lutheran Church (623 Congress St., Newburg, 53060) with Pastor Kurt Schaser presiding. The visitation will be from 9:00AM until 10:45AM at the church. Interment will follow at St. John's Cemetery. In lieu of flowers, memorials appreciated to St. John's Ev. Lutheran Church Newburg, Wi. 
The family would like to thank all who remembered her with cards, prayers and visits after her stroke in 2007, Dr. Gajic and his staff and Caring Hands of Hope who made it possible for her to stay at home.
Adeline was a volunteer for the Seidemann Family Reunions where for many years she proofed then later help fold the invitations, donated gifts for bingo prizes, and attended yearly reunions – only missing one in 2007, the year of her stroke. She was also one of the many volunteers who helped to proof the 4th edition of the History and Family Tree of the Friedrich Seidemann Family Descendants. She is listed in that book on page xi, pictured with her family on page 47, and listed on the family tree on page 108 and 109. She will be greatly missed by all who knew her.