Died: 12 July 2022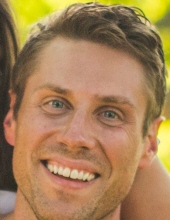 Daniel M. Wilkens, 38 years, of New Berlin, died unexpectedly and quietly slipped into eternity while surrounded by his family and friends on Tuesday, 12 July 2022.
Dan was born in Milwaukee on 2 November 1983, to Martin and Audrey Wilkens (Schaubs). He was baptized at Our Savior Lutheran Church and then confirmed by Pastor Mark Wagner at Our Savior Lutheran Church on 10 May 1998.
Raised his entire life in Grafton, Dan graduated from Kettle Moraine Lutheran High School and went on to attend Wisconsin Lutheran College where he received his Bachelor of Science degree and then later received his MBA from Marquette University.
At the age of 25, he met his loving wife Ashley Pavletich, and they were married on 19 May 2012, at St. Marcus in Milwaukee.
Dan spent his entire career at National Business Furniture as one of the top Account Sales Executives and loved to work with his customers designing and selecting furniture for their perfect offices.
His love of sports was undeniable, especially basketball and golf. You could find him swinging a club almost daily and watching every Milwaukee Bucks game. He enjoyed hosting social gatherings with family and friends. He was the glue that held together his close circle of friends.
Dan and Ashley built their dream home in New Berlin where he found a love of working in the yard and doing many, many projects around the house. Their beloved Doberman, Kaiser, will miss his favorite frisbee and football buddy.
Daniel is survived by his wife, Ashley Wilkens (Pavletich); mother, Audrey Wilkens (Schaubs); sister, Amanda Wilkens; in-laws, Jim and Debbie Pavletich; brother-in-law, Scott Pavletich; and many close family and friends. He was preceded in death by his father, Martin Wilkens, and uncle/godfather, Kenneth Schaubs.
Funeral services were held on Sunday, 17 July 17 2022, at Our Savior Lutheran Church, 1332 Arrowhead Dr., Grafton. A visitation was held from 2:00-4:45 p.m. with the funeral service beginning at 5:00 p.m. In lieu of flowers, Ashley will develop a memorial to support the organizations Dan supported that were near and dear to his heart in the surrounding area.
Mueller Funeral Home & Crematory is serving the family.
Daniel is pictured in the 4th edition of the Friedrich Seidemann Family Tree Book on page 52 with his parents and sister. He is listed on page 109 with his parents, sider and his wife. Daniel is a seventh descendant of Friedrich and Rosina Seidemann and his genealogy line is as follows: Friedrich, Traugott, Emma, Otto, Elmer, Martin, and Daniel.