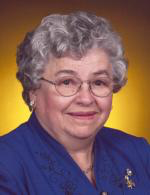 Died: 25 September 2010
Wilkens, Esther L. (Schille) 83 years, died 25 September 2010. She was born to Henry and Hermine (nee Winter) Schille. She was united in marriage to Elmer H. Wilkens. Together they the farmed on the Wilkens family homestead for many years. Esther is survived by two daughters; Cheryl (Jonathan) Schultz and by Ellyn Wilkens and two sons, Mark (Jean) Wilkens and Martin (Audrey) Wilkens. Ten grandchildren also survived her; Douglas, Brian (Leigh), Daniel, Amanda, Jessica, Benjamin, and Rebecca Wilkens, Charissa, Nathan, and Andrew Schultz and four great grandchildren; Jacob, Nicholas, Maxwell and Caden Wilkens. Annette Wilkens her daughter-in-law and her sister-in-laws Leona Scheunemann and Adeline Wilkens also survive her. 
Esther enjoyed spending time with her family, playing cards, working on jigsaw puzzles and crossword puzzles. She was an active member of her church. She is deeply missed by her family and friends.