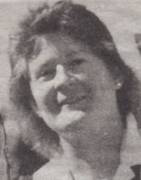 Died: 5 February 2008
Rachel B. Wilkens, 54, passed away at her home on 5 February 2008 from cancer. She was the daughter of Alfred and Esther (Liebenstein) Rose and the loving wife of Kenneth Wilkens. Her mother-in-law, Gladys Hiller and brother-in-law Gerald Wilkens, further survive her.
Rachel enjoyed gardening, sewing, needlework, traveling, photography, and NASCAR racing. She also had a soft spot in her heart for animals, especially cats. She will be greatly missed by her family and friends.
Rachel is listed on page 101 of the 4th edition of the Seidemann Family Tree Book.